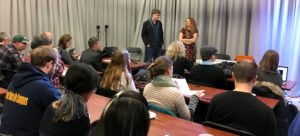 At BIG and the Public VR Lab, one of our primary goals in 2019 is to support community media centers, libraries, museums, youth, arts and cultural organizations, and community-engaged filmmakers to understand, create, and provide community access to emerging media equipment, training, and content in all its forms, continuing to build a field for community-based VR, AR, 360, and MR (XR).
We call it Community XR, and we hope you'll contribute to building the field too!
We hope you'll join us this year at sessions at national conferences, at regional user group events, and for hands-on training programs to share what we and others have learned as emerging best practices in the field, and in developing staff and organizational capacity to utilize new ways to create media, tell local stories, and attract new partners, members, funding and other resources to our community media centers.
Stay tuned for other conferences and regional training from the Public VR Lab in 2019. Please let us know if you are already implementing 360, VR, AR or MR at your organization or school so we can add you to our growing international directory for Community XR!
We kick off 2019's events in New England on Friday, February 8th from 10:00 am – 6:00 pm:
Join BIG at our innovative VR Lab partner organization, Westford CAT, for a day of learning how to implement Community XR at your arts, media or cultural organization at a hands-on training from 10-3pm, and/or for our free community XR users' group discussion from 4-6pm!
From 10-3pm, BIG & the Public VR Lab's team will offer a low-cost training custom-designed for media-makers, 360 Filmmaking & VR Storytelling Training for Media Professionals (registration below).
In the afternoon, Westford CAT & BIG will co-host a free Community XR users group where community media centers who are using 360, VR and AR (XR) will share current XR projects, challenges/successes, equipment, education programs and best practices for implementing emerging media at your community media center.
Read more & register here.
Discount available for Alliance for Community Media members (may be up to 50% off). Email Erin Kinney, at erin at brooklineinteractive.org for more details and eligibility requirements.
360 Filmmaking & VR Storytelling Training for Media Professionals
Friday, February 8th from 10:00 am – 3:00 pm
Well-designed immersive reality (VR, AR, 360) experiences can invoke a powerful sense of wonder and empathy and have a transformational effect on the viewer. In this half-day, hands-on training, you will learn how to use these emerging media tools to create immersive stories using 360 videos and applying it to your current media production work.
This workshop will cover the following topics:
-Overview of 360, AR & VR basics
-Examples/use cases of immersive stories in 360 video, VR and AR 360 cameras,
-Capturing high-quality footage, hands-on exercises using the Nikon Keymission 360 camera,
-Editing in 360 – learn how to edit your videos, experimenting with text, transitions, etc., and uploading 360 videos to the web,
-A (very) quick intro to WondaVR for our more advanced users to understand the possibility to create branched narrative stories in VR.
Please note: The February 8th events take place at Westford Community Access Television, 487 Groton Rd, Unit B Westford, MA 01886