One of our goals at the Public VR Lab is to help create a rising tide that lifts all boats by creating a new field for Community VR/XR.
And by boats, we mean public interest and arts and cultural organizations like us who can't always afford to have staff spend two years learning about new technologies.
As a media training nonprofit arts organization, we know the value of having staff well-trained and equipment that is easy to use.
To that end, we've pulled together our two years of expertise and staff capacity in VR/AR to prototype an easy-to-use VR Toolkit for our colleagues in community media and our friends at libraries, arts and cultural organizations, local governments and in youth media.
We've made it affordable, provide instructions and training and a Pelican case for all to fit in.
We even took our kits all the way to Kenya without a scratch. We hope you can benefit from all we've learned along our VR journey, and we hope to help you along yours!
To get started on this adventure, fill out our short form and a Lab team member will be in touch soon to discuss details, a kit building timeline, shipping details, and training options.
https://goo.gl/forms/5cZRUB3weDBLAiNs1
Our VR Demo Toolkit 2018 Pricing starts at $2750-$5000, depending on your kit's customizations.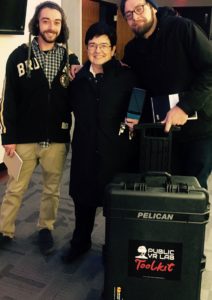 Boston Neighborhood Network (BNN), bought their Toolkit and received a training from BIG and the Public VR Lab. [photo right: BNN staffers; Brett Rodrigues, Susan Conner, and Tomek Doroz.]
We also have a VR Creator's Toolkit available for journalists, art centers, filmmakers and media makers. This Toolkit is ideal if you want to create VR content using a 360 camera provided in the kit to create immersive news, films, and non-profit organizational videos.
Please note training and shipping fees will additional, and will apply based on your location.
Check out our upcoming group training, VR Storytelling & Filmmaking for Educators here.
VR Demo Toolkit
Nikon KeyMission 360 camera

64G MicroSD card
360 Accessory kit (camera bag, tripod, selfie stick, waterproof lens, shock proof case, etc)

Pelican Case
HTC Vive Headset
Gaming Laptop
2 Light Stands with swivel tops
Deluxe audio headstrap
25-foot HDMI Cable
HDMI to Displayport Adapter
Steam Link
Training provided in Brookline, MA
Add-ons: VR Demo training; on-site 360 camera training; ongoing technical support
Basic VR CREATOR Toolkit includes:
Nikon KeyMission 360 camera

64G MicroSD card
360 Accessory kit (camera bag, tripod, selfie stick, waterproof lens, shockproof case, etc)

Pelican Case
HTC Vive Headset
Gaming Laptop
2 Light Stands with swivel tops
Deluxe audio headstrap
25-foot HDMI Cable
HDMI to Displayport Adapter
Steam Link
Training provided in Brookline, MA
Add-ons: VR Demo training; on-site 360 camera training; ongoing technical support