Augmented Reality (AR) Projects at the Lab in 2017
Experiencing History through Augmented Reality: Capturing The 2017 Women's March on Washington, D.C
Members of the team at Brookline Interactive Group and the Public VR Lab traveled from Massachusetts to Washington, D.C. to interview over 75 participants on DSLR cameras and in 360 video, to document their experiences and feelings about traveling to and during the march, and to provide evidence of the largest protest event in U.S history.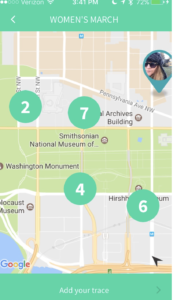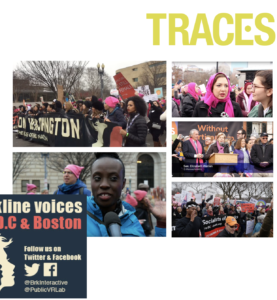 After capturing these compelling stories, the team uploaded the content permanently in augmented reality and geolocated it along the route of the 2017 Women's March in D.C, now available through the Traces AR app. Anyone can now download the app and view the content street-by-street as the first augmented reality documentation of the march while visiting D.C., along with visiting their favorite museums on the national mall.
A similar AR project was piloted in Brookline, MA by the Public VR Lab and BIG, called Marathon Moments, where stories were geolocated along the Boston Marathon route along Bean St through Brookline in April of 2017. Residents, runners, local businesses and local charities posted their memories, why they run" stories and shared photos and videos along the race route. 
Traces works similarly to Pokemon Go, in that users can "catch" stories as they move through physical space in the "real" world, reading them in the present moment or saving them. Users must visit the actual in-person location to retrieve stories.
About the Women's March
The Women's March was a worldwide protest on January 21, 2017, to advocate legislation and policies regarding human rights and other issues, including women's rights, immigration reform, healthcare reform, reproductive rights, the natural environment, LGBTQ rights, racial equality, freedom of religion,and workers' rights.
Most of the rallies were aimed at Donald Trump, immediately following his inauguration as President of the United States, largely due to statements that he had made and positions that he had taken which were regarded by many as anti-women or otherwise offensive. It was the largest single-day protest in U.S. history.
Partners
Traces: Neuroscientist Dr Beau Lotto launched Traces – an immersive messaging app that lets users leave digital content for others to discover in specific physical locations.
Using the Traces app, people plant a water droplet anywhere in the world, with content such as a song or a note, and invite someone to track it down. In order to unlock the content, the user has to travel to the location where it was planted. They can then 'Retrace' it a limited number of times.
The Public VR Lab, a project of Brookline Interactive Group, was founded in May 2016 to facilitate dialogue and innovative projects around immersive technologies in the public interest; to support the creation community content, provide education, digital inclusion and public access to VR/AR/360 tools, coding, filming, and headsets, and to serve as an incubator for collaborative and hyperlocal XR experiences.
The Lab is a collaborative project, co-founded by Kathy Bisbee, Brookline Interactive Group (BIG), and Al Williams, Northampton Community Television (NCTV). @PublicVRLab www.publicvrlab.com