Download and share the VR/AR Scholarship flyer here!
VR/AR Scholarship at the Public VR Lab Launching Seed Round
What: The VR/AR Scholarship at the Public VR Lab is the first of its kind, focused on helping Brookline and greater Boston residents to pursue careers in VR/AR through higher education opportunities to learn about the industry and gain new skills. 

Building on BIG and the Lab's paid youth job training program on traditional and emerging media training and soft/hard job skills, the XR in the Public Interest Scholarship focuses on underserved youth who are interested in pursuing careers in emerging media as programmers, producers or creative designers. 
 Who: This scholarship fund is for youth ages 17-21, and the applicants will be asked about how they will use their new skills and education to promote inclusion, civic engagement and VR/AR in the public interest. 
The Lab seeks donations from Brookline and Boston residents, regional VR/AR enthusiasts, professionals in the industry, and former participants of the Lab's programs, Meetup groups, and hackathon attendees to help support the new scholarship program.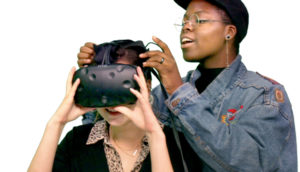 Donate: All donations are tax-deductible as BIG is a 501(c)(3) organization.
Donate online or send a check to BIG, 46 Tappan St, Brookline, MA 02445 with "VR/AR Scholarship" in the memo. 
 Apply: Applicants can sign up to be alerted when the application process begins, in Spring of 2019, at publicvrlab.com or by emailing erin@brooklineinteractive.org to get on our alert list for the application period.