The Public VR Lab is building a broad network for a Community VR movement that will facilitate public dialogue; provide professional training; empower community knowledge and creation of 360, virtual, and augmented content; provide access to tools, headsets, arcades, toolkits, and professional expertise; and generate locally-focused, broadly-impactful VR experiences in the public interest.
Visit www.publicvrlab.com to view current classes, events, training, projects, and VR in the public interest content.
Our VR Demo Toolkit 2017 pricing is as listed below. Use this kit if you want to bring new visitors into your organization by offering free Virtual Reality demos, having the latest technology, and offering classes in VR movement, art, travel and more. Our goal at the Lab is to provide community organizations, schools, local government, libraries and colleges with access to VR equipment.
You can research all of this equipment and information online, or you can quickly benefit from our team's two years of research to package a VR Toolkit for you and deliver instructions, cables you need and sign up for a training!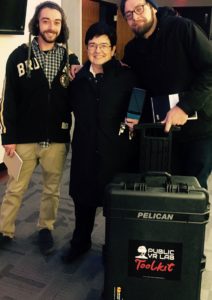 One of the largest community media centers in the U.S., Boston Neighborhood Network (BNN), just bought their Toolkit and received a training from BIG and the Public VR Lab. [photo left: BNN staffers; Brett Rodrigues, Susan Conner, and Tomek Doroz.]
We also have a VR Creator's Toolkit available for journalists, art centers, filmmakers and media makers. This Toolkit is ideal if you want to create VR content using a 360 camera provided in the kit to create immersive news, films, and non-profit organizational videos.
We also provide additional training to bring your immersive storytelling skills up to speed. 
Register for your VR Toolkit Today!
Please fill out this form to get started with your VR Toolkit from the Public VR Lab! Please note training and shipping fees will additional, and will apply based on your location. Our team can also come to you to provide in-person, customized VR Toolkit and content creator training, all based on schedule availability.
Note: We'll have a regional schedule of upcoming group training should you want to join other organizations for your training in your region. If you're an educator or journalist, please see our March extended training program
January 2018 Pricing: $2500-5000 (price based on organizational budget and training/camera add-ons as requested)
Basic VR DEMO Toolkit includes:
Pelican Case

HTC Vive Headset

ACER Laptop

2 Light Stands with swivel tops

Deluxe audio headstrap

25-foot HDMI Cable

HDMI to Displayport Adapter

Steam link
Training provided in Brookline, MA
Add-ons: VR Demo training; on-site 360 camera training; ongoing technical support
Basic VR CREATOR Toolkit includes:
Nikon KeyMission 360 camera

64G MicroSD card
360 Accessory kit (camera bag, tripod, selfie stick, waterproof lens, shock proof case, etc)

Pelican Case

HTC Vive Headset

ACER Laptop

2 Light Stands with swivel tops

Deluxe audio headstrap

25-foot HDMI Cable

HDMI to Displayport Adapter

Steam link
Training provided in Brookline, MA
Add-ons: VR Demo training; on-site 360 camera training; ongoing technical support